Our Itinerary of the Kullu and Manali Trip and some important tips.
Hello everyone thanks for stopping by and reading our blog, hope you will find it inserting and useful for your trip to one of the most visited Himalayan destinations Kullu-Manali. Kullu is a district in the Himachal Pradesh state of India and Manali is a town in Kullu district.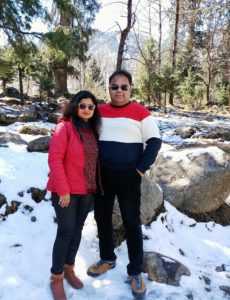 How to reach Kullu & Manali?
Well, the most common route is flying to Delhi or Chandigarh and then taking the bus or taxi. But, we chose to fly to Kullu from Hyderabad via Delhi in outbound route and via Chandigarh in inbound. The itinerary we found at goibibo.com and we booked the flights from the same site. It's a bit expensive affair but good for my back. Please note, as of this week 21/03/2018, there is a road expansion work going on at the route between Kullu and Manali which is causing the road very bumpy and dusty. Moreover, I have read in some reviews where people have suggested taking government bus instead of Volvo busses for security reason. I don't know how much that supposed to be true but for us bus was not the option.
So, we flew from Hyderabad on 12th March at the 12:00 am midnight with Indigo airline and landed to Terminal 1 of Delhi Airport. Then, we took the airport shuttle from terminal 1, which is a government bus gives service between the terminal 1 and 2 & 3, and if you show both the tickets of the flights from both the terminals, you will get a coupon for free ride, you can avail that at the bus stand itself. We had to wait till 6:30 am morning of 13th March at the terminal 3 of Delhi airport to take our next flight, the ATR small aircraft called Allianz running by Air India. The plane landed in Kullu's Bhuntar Airport within 45 minutes of airtime with amazing view of the Himalayas. Bhuntar airport is a very small airport and only 2 flights from Air India run in this route throughout the week. We got a taxi from the airport and went to our hotel in Kullu within 20 minutes. The cab charged Rs. 600, you have to buy the ticket from the airport counter itself.
Because of our itinerary included flights through Bhuntar, we planned to stay in Kullu and not go directly to Manali. In fact, while returning home, we came back one day before to Kullu, so we can catch the early morning flight from Bhuntar to Chnadigarh. Our hotel was already booked through goibibo.com at the Shobla Royale, probably the best hotel in our budget in the centre area of Kullu, just beside the taxi stand and all the shops/market etc. Read our review about Shobla Royale here.
Kullu is at much lower range of the Himalayas and there are not too many tourist spots to visit. However, for trekking lovers it's a good place as one can go to Kasol, Manikaran and especially, Khirganga to trek. There is 3 hours trek at the Khirganga which supposed to be very good, but we didn't go there. We had only one extra day in Kullu, so we had a drive till Manikaran. The Parvathi River is very beautiful in Manikaran and the natural hot-spring is very famous, you can enjoy taking a deep there as well. There are some famous Temples and Dargah one can visit too. There are options for Paragliding and River Rafting in Kullu area, your hotel can help you on that if you are interested. You can also go to couple of other places from Kullu, namely the Great Himalayan National Park, Trinadha and Jalori. We got back from Kasol and Manikaran trip by afternoon and had Thukpa and Momo in lunch at a local joint as we love Tibetan delicacy. In evening, we decided to check out the locality, wanted to have a walk and find some more food joints for dinner. It was a lovely experience walking around the hilly town of Kullu, so different than the fast growing IT cities like Hyderabad. Indian hill stations are a bit crowded unlike Europe because they have very less population. Hill stations like Narni in Italy, Innsbruck in Austria and Annecy in France where we have been in our Europe trips hardly have people in those towns. Himalayan range has good population living in the mountain cities and villages, mostly living on tourism and farming.
As we began our walk, we found at least 3 grounds near our hotel and lots of food stalls and Dhabas. It gets dark very early in the mountains and people go to sleep real early. So, we decided to have an early dinner at one of those Dhabas beside the first ground opposite to the road in front of the hotel. It's a very simple place to eat, mostly local people eat here. We are not much fussy about where we are eating when we travel. And, it was really a great deal; we had Tandori Roti, Rajma Daal and Mutton Curry all in just Rs. 150. The taste was awesome, in fact, probably one the best Mutton curry we ever had, and it was very sublime and fresh. After the dinner, we bought some sweets from the sweet shops beside the Dhaba and got back to the hotel. Our room had a lovely balcony with a mountain view, the lights of houses from the villages all around the mountain looked like as if stars have come down to earth. We enjoyed having bites of the Jalebee and Cham Cham with the view and that is how we have completed 14th March in Kullu.
On 15th March, we checked out from Hotel Shobla Royale and took a Taxi from Kullu to Manali. Its around one and a half hours journey and costs Rs. 1,300. Our Hotel Chandermukhi was also booked through goibibo and the property stands approximately 1.6 KM before Manali centre or Mall Road. The location of the hotel was good and bad both for us. It was good because we had an amazing view of the Hamta Pass Snow Mountain from the large window and River Beas flowing from few meters away from the hotel, right at the other side of the road. You see the river whole day and hear the water flowing sound very well for the whole night when the road gets less noisy. The bad part was that, we thought we could easily walk up to the city-centre (Mall Road) whenever we like to as the distance is only 1.6 km. But, unfortunately the road was under construction and very narrow at places, top on that, it rained and made the road watery, and, its quite an uphill. The only option we had was to take taxi or auto every time we wanted to go to the Mall Road. So, our suggestion will be: Try out more options near the Mall Road so you can walk up whenever you feel like but make sure the hotel is not at the mall road area, and then you won't have a good view of snow-capped mountains, but the property better be near the mall road. Anyway, on our first day, we had a short walk in the Mall Road and had to run back to hotel because of heavy rain.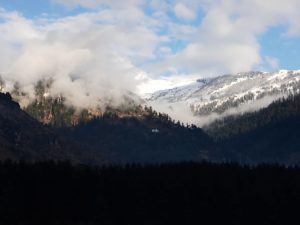 Next day on 16th March, we visited the famous Hidimba Temple area. There was a festival going on that day at the temple and the place was filled with local Himalayan devotees. We got some click of the temple and went to the back side of the temple where you can find a nice pine forest park. The tickets are only Rs. 10 for each person. We spend some time in the park and then came back to the Mall Road. To my sheer surprise, the food scene was quite unique here unlike Hill stations in West Bengal and Sikkim, because most of the restaurants we found here are Vegetarian, including the Tibetan and Nepali ones. However, after asking our auto driver, we found some joints where they serve non-vegetarian food, mostly Thukpa and Momo. I must tell you, food in Manali is expensive unlike Kullu, whether small join or big, especially at the MallRoad. We did like the famous restaurant Chopstick at the Mall, good food and reasonable price for selected dishes. We liked the Cantonese Chicken / Mutton Noodles very much at Chopstick. The snack and sweet restaurants are quite expensive too. If you are a foodie, you can think of Rs. 500 for two people per meal every day excluding Breakfast, which you will probably have at the hotel. If you have a comfortable budget for the trip, then don't bother about it. For frequent travellers, its important to know the costs as they travel more often than others.
Solang Valley
On 17th March, we went to Solang Valley, one of the main tourist spots in Manali area – a famous snow point. There is a Taxi stand at the Mall Road and you will find number of taxi drivers standing there for sightseen packages. The small cars like Alto will charge around Rs. 800 for the Solang Valley trip for up and down, and bigger cars will charge more. The car takes you to the Solang Valley, but you have to take either four-wheeler motorcycle or Horse to reach to the snow point. That will cost you Rs. 1000 (do bargain). Once you reach the snow pint, you can spend an hour or more there as per your convenience and also can take part in the adventure activities like ice-skating or riding snow bikes etc. It was very cold there, so we couldn't stay for too long, but really had a good time in the midst of snow valley. Our bike and taxi both were waiting for us respectively as we came down and began our journey back to the city-center.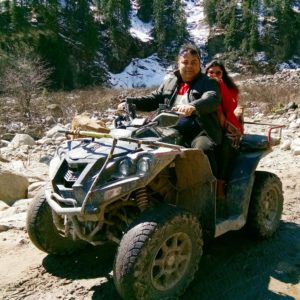 On the way, our taxi driver was kind enough to show us the shooting spot of Bollywood movie Tango Charlie where we had clicked few photos too. We came back to the Mall Road and settled for some soup and noodles at Chopstick.
Manali
On 18th March, we decided to walk around the street and river side as all the other snow points were closed due to heavy snow-fall. And, we didn't know that Rohtang Pass won't open until summer. However, as our hotel was situated in the midst of nature, it was a pleasant and easy day to take the last glimpse of the Himalayas.
On 19th March, we came back to Kullu because we had an early morning flight from Kullu on 20th March. We spend the day walking around the grounds and yes, had our dinner at the same place, but this time more mutton curry than last time. I am absolutely certain that I can never forget the taste of the mutton curry ever. If you are not fussy about the place you are eating, then do find these dhabas all situated together just beside the ground right at the other side of the road in front of hotel Shobla Royale. If you feel bore, you can watch a movie at the Shobla multiplex just beside the hotel and if you miss your fast-food, there is a Dominos below the theatre at the hotel compound.
Travel Back to Home
We took our same ATR AirIndia flight from Bhuntar Airport Kullu and landed in Chandigarh within 30 minutes. We had a heavy breakfast outside the airport in a restaurant at the parking and took our Indigo flight at 14:30 pm to Hyderabad, which flew for two and a half hours and landed in Hyderabad in time. That's all from our trip, if you have any question, you can mail us at Bonjour Zindagi