Our Food Experience from Prague – The Bohemian Feast.
Prague is known for Bohemian delicacy, a place for foodies. I have been to Prague twice, once for couple of days during the summer as a solo and again during the Christmas with my wife and both the time, I thoroughly enjoyed the delicious traditional delicacies of Prague. If you have been to Prague, you would know that Prague is a very small city, very much like a fairy-tale city, especially the tourist areas and there is food everywhere. In Prague, you just walk around the Charles Bridge, Prague Castle area and the famous Old Town and stop over to eat in any of those street side small eateries as well as the restaurants. There is food everywhere, precisely!
The Heart of Prague Old Town
Thats the meat I am talking about…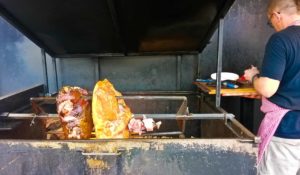 Like many European cities, you will find meat and sweet all around the city, especially during the summer and Christmas. When I travelled with my wife, I tried the cuisines which I didn't try when I been there solo and that made things little more interesting for me, because by then, I had some idea about what I have missed and what should I try, which took us to this restaurant just opposite to the Charles Bridge, the lane taking you to the Old Town square, serves delicious food in affordable price. It was winter, 24th December and we were literally freezing even though we walked for hours, because it was drizzling for the whole day. We really needed some meat, a nice soft and hot meat with some carbohydrate for lunch, so we gain enough energy for rest of the day.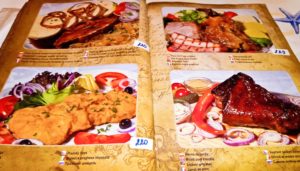 It's great to find the menu card with images in most restaurants in all European countries. This is really helpful to people from another continent like us to make an idea about the dish if not understand by its name, especially if the locally known given in the menu card.
I remember ordering a plate of Pork Ribs with some veggies and my wife a Meat Platter which comes with portions of Duck meat, Beef and Chicken breast along with some deep fried Potato and Veggies. It goes without saying that we had feast, a real feast of meat. I am sure you can make out from the photos that we were quite pleased with the spread and eaten them with great pleasure. I forgot to note down the name of the restaurant as we were in hurry and slowed down because of the rain, but it was located just beside the Godot Art Gallery, inside the same building, a minute walk from the Charles Bridge towards the Old Town. We actually couldn't eat anything after that as we were full.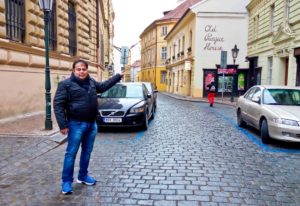 I must share about my unique food experience in Prague when I travelled solo and was having a bad stomach. I literally prayed for my tummy while travelling from Vienna to Prague by the morning train. I put up in a wonderful Hostel called the Old Prague House very close by all tourist spot – be the Charles Bridge or the Old Town.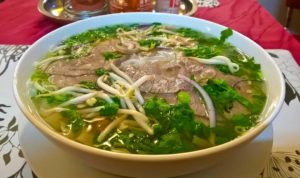 While check-in, I asked the lady in the reception whether I can find out any place to have some soup in Prague. The lady gave me a look and said: "Go out and take left, you will find a Chinese restaurant in the same building". I was speechless out of happiness and gratefulness towards God's mysterious orchestration which only He can do as He knows our future and walking ahead of our life.
So, I ran and put my staffs in my room and flew down to the street just to find a nice home-run Chinese restaurant beside the hostel but in the same building. I really don't know what the dishes I have ordered there, but I let my eyes decide and settled with something like a bowl of warm Beef Soup with lots of veggies and soft noodles. I didn't eat anything since morning, after I had the soup, felt completely relieved. I literally felt from inside that my body recovered after having the whole soup like some blessed medicine. Oh Good Lord, that was some miracle!
Chinese cuisines are quite famous in India – Dumplings, Lamb Roast, Schezwan Chicken, Bamboo Rice, Pork Chow Chow, Prawn Manchurian are some of the household names in India. But, the Chinese cuisines in Europe are quite different than what we make in India. The rice was stickier and veggies were mostly uncooked – just boiled with the water and herbs, no oil or any unnecessary spicy ingredients. The beef chunks were juicy, soft and subtle. The spiciest Chinese dish in Europe would be the non-spiciest Asian dish in India and I think that's the best way to explain it in one word.
Last but not the least; I had my best Dark-Chocolate Cake in Prague. It was huge and amazing. I had the whole cake in less than a minute. I confess that I wanted to have the famous Street food in Prague – the Trdelník Pastry, but for some reason I missed it both the time. May be that will be my purpose to visit Prague for the third time sometime in the near future. But, I will never forget that Dark-Chocolate Cake in my whole life. It's possible that I will visit Prague again for this sweet temptation!
Charles Bridge – The Main Attraction in Prague
Do Your Research
I suggest travellers to get acquainted with the places by researching online, before starting the trip. You might tour for two weeks or a month, but if you research well prior to the trip, it is an added advantage and also quite exciting. Once the trip begins, you may hardly find time for that. I will also suggest you to study the maps well before you visit and look in to the rout maps of all the metro and bus lines. Do visit the sites like TripAdvisor and ask questions to the respective forums (Barcelona, Budapest, Geneva, Rome and other places), you will find local people helping you out with real information. That's something I rely on for my pre-travel research.