Be A Roman In Rome, thats the best way you can enjoy Rome. Here is the complete guide for your Rome trip.
Ciao Ciao Signore e Signore
The first place I visited in Europe was Rome. It's special to me and I can write pages about the beautiful royal city. Like many European cities, you will find Rome intact with its glorious past. You will see the ancient Rome in every corner of the city – particularly near Colosseum and Capitoline Hill area. Picturesque Piazza Venezia is a place for great food and street walk. Centro Storico or the Historic Center is another amazing location to visit. Centro Storico is located near river Tiber. In this area, you will find exactly the Rome you have imagined, old Renaissance era Churches, beautiful narrow alleys, street side cafes and eateries, mini Italian cars and colourful flowers, spectacular beauty in every corner. You better walk to enjoy the most!
One cannot talk about Rome without mentioning the Vatican City. It was established as a sovereign state in 1929.St. Peters Basilica and the Vatican Museum are the main attractions in The Vatican. The first one is free to visit and the museum is ticketed.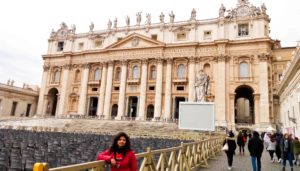 We are all aware that Italy has given Pizza and Pasta to the world. In Rome, you will get the real Italian thin crust pizzas, which look and taste completely different from the pizzas elsewhere. You may buy them in weight (grams). These Pizzas are mostly topped with salami, ham, mushrooms and spinach; though there are many other varieties. Italian food is healthy – be it meat / pizza / pasta. They do not use preservatives or artificial colours. All the preparations have fresh ingredients and prepared in traditional method.
If you are a non-vegetarian and eat everything, you will probably have the best time of your life in Rome. And, if you are a vegetarian, don't worry, Italians have varieties of veg pizzas and salads. Try the supermarkets for sandwiches, salads and fruits. If you are on a shoestring budget, visit the supermarkets and not the restaurants or other eating outlets, especially the ones in the tourist spots. I lived on breads, ham, salads, fruits and yogurt from the supermarkets for weeks during my solo travelling days. Also, if you need a bowl of hot soup or noodles, find out one of those small Chinese / Japanese restaurants in the market/station areas. As I have already mentioned in the food blog, my favorite in Italy is Prosciutto Ham. I really prefer to have at least one meal a day with Prosciutto, bread and veggies.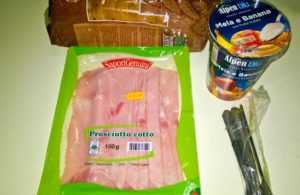 Finally, do not miss the traditional Italian Ice-cream – Gelato. You will find Gelato parlours in every corner of the city. Get two of your favourite flavours in one cone and have a cool walk along the crumbling allays. A Sicilian, Francesco Procopio Dei Coltelli, was one of the most influential individuals in the history of Gelato; he was the first who sold it to the public, introducing Gelato to Europe. Summoned to Paris in 1686, he opened a café named "Café Procope," which quickly became one of the most celebrated haunts of the literary establishment in France. Gelato in Italian means "frozen", but it is basically used to indicate the Italian type of ice cream. One of the basic differences between Gelato and the ice cream we know of in our country is that it contains two thirds less butterfat and it doesn't have as much air, therefore has a more intense flavor. Gelato is healthier than normal ice-creams since it is made with all natural ingredients and contains fewer calories and less butter fat (source). Keep your eyes on my food blog, I will come up with my first Travel Vlog (video blog) on Italian food by the end of September 2017.
Like most major European cities, Rome has great public transport system. You can buy the € 1.50 standard ticket, which will be valid for 1 Metro ride (for example, Roma Termini to Colosseum). There is a € 7.00 ticket, which is valid for unlimited metro – bus and train travel within Rome for 24 hours. There are 48 hours passes and 72 hours passes too. Hop-on and Hop-off buses are a great way to browse the tourist spots in the city. The prices may change by time. To stay informed on all kind of public and tourist transport tickets and passes, you should visit RomeToolkit. If you are visiting Rome in high season, you should consider booking passes online prior to your visit to the busy tourist spots and museums like the Colosseum and the Vatican. The Roma Pass is highly recommended, you like to have this pass with you so you don't have to waste time in long queues. Also, the Roma Pass is quite affordable and very efficient.
Eateries: Rome has small to big, all kind of restaurants everywhere in the city. There is something for everyone. It is widely advised by many visitors that, its better to avoid restaurants right at the tourist spots and find eateries where the locals eat, probably just a few blocks away, to enjoy the authentic Italian delicacy in affordable price. I have been blessed to spend number of days in a small Italian town called Narni in Umbria to attend Luci Della Ribalta International Festival and I just loved the food in the eateries there, which are precisely meant for the locals – delicious, authentic and very affordable. In Rome, you will get sandwiches and salads in all the supermarkets, there are number of them in all over the city. You can also find some American burger joints inside the Termini and also, many nice cafés. I have seen an Indian restaurant called Sitar at Via Cavour, a 5 minute walk from the Colosseum. I will soon come up with our first Travel Vlog (video blog) on Italian food by the end of September 2017, where I am going to give you a visual trip of our food trip.
Stay: In Rome, you have all kind of hotels and hostels. Even in high season, you might just get your room without prior booking. But it's highly advised that you book your hotel room well before your trip to get the best price and also to get the best options. You may like to stay near Termini if you want to catch the metro for sightseeing and train for visiting other Italian cities. You will find sharing room in hostels in as less as € 25.00 per night for one person and Hotels € 50.00 per night for two people if you book early and of course, that can go higher depending on your choice of comfort and luxury.
Tourist Spots/Museums: Rome and largely Italy is treasured with wonderful tourist spots, including some of the world's most amazing museums and monuments. It's necessary to book your tickets online to avoid the long queues. I suggest the Indian travellers to book their tickets of the tourist spots prior to the trip. The Roma Pass is highly recommended, you like to have this pass with you so you don't have to waste time in long queues. Also, the Roma Pass is quite affordable and very efficient.
Flight/Train: If you wish to visit other Schengen states by flight and train, then book your tickets early to get the best price. Europe has number of affordable airlines. I bought two seats for Rome to Barcelona in less than what I spend for Hyderabad to Delhi. Be sure the checked-in baggage is included in the fare. Sometimes it's a bit tricky to understand in a new booking portal and airline site. If you fail to book the seat inclusive of checked-in baggage, you might have to pay a big amount only for your suitcase in the last moment at the airport. Also, make sure that you have taken the print-copy of the boarding pass which generally all the airlines open in their websites 24-hours prior to your journey (this may differ from one airline to another). If you go with the reservation number like India, they will ask you to get the boarding pass and if you don't have time or doesn't have internet on mobile, then again you have to pay a hefty fee. Once, I was fortunate that the airport info desk helped me with the print of my boarding pass while flying from Ciampino (Rome) to Budapest on my first domestic flight in Europe. Always be in the airport early, at least two hours before your boarding time.
Airport to City: You can use any of the options to reach the city from the FCO airport – by bus, train or taxi. I prefer to take the bus, as the ticket fare is affordable (around € 6). It goes straight to the Roma Termini, the last stop. I usually book my hotel beside the Termini (Rome's main train station) so I can catch the metro easily. While returning to the airport, I take the bus from the Termini again. They have buses arriving one in every 30 minutes, for FCO and Ciampino Airport both. Be there early to get in the queue.
Research: I suggest travellers to get acquainted with the places by researching online, before starting the trip. You might tour for two weeks or a month, but if you research well prior to the trip, it is an added advantage and also quite exciting. Once the trip begins, you may hardly find time for that. I will also suggest you to study the maps well before you visit and look in to the rout maps of all the metro and bus lines. Do visit the sites like TripAdvisor and ask questions to the respective forums (Barcelona, Budapest, Geneva, Rome and other places), you will find local people helping you out with real information. That's something I rely on for my pre-travel research.
As I remember and think of more tips, I will keep adding in this space…